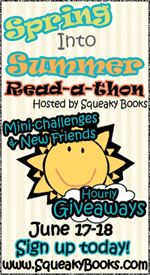 Yay! The Spring Into Summer Read-A-Thon is finally here. I am prepared!
I have picked out my books.
Ella Enchanted by Gail Carson Levine
Snow by Lynn Tracy
Princess Academy by SHANNON HALE
The Witch of Blackbird Pond by Elizabeth George Speare
Winter's Child by Cameron Dokey
How to Take the Ex out of Ex-boyfriend by Janette Rallison
I set my goal at 3 books, but hopefully I'll be able to read more than that.
I'm hitting 2 birds with one stone; half of these are for the Award Winning Reads challenge.
I'll probably do an update post every 2 hours, but that'll be less time reading (at least it'll get me entered in some giveaways)!