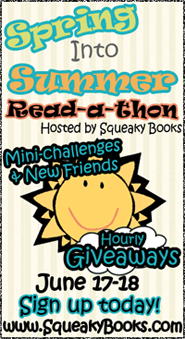 1. First of all, give us an end-of-day status update. Books read, pages read, you know the drill!
Total Books Read: 1
Total Pages Read: 315
Books Read Since Last Update: 1
Pages Read since last update: 149
Last Line Read:

Jessica's life was coming to an end

Total time read: 7 1/2 hours
How I'm currently feeling: I got about 5 hours of sleep, but I'm ready to tackle these books!
*NOTE: I'm also listening to an audiobook of The Witch of Blackbird Pond during the Read-a-Thon. I'm currently 42.45283018867925% through it.

2. What's the favorite thing you have read today?
Ella Enchanted is my only Read-A-Thon book I've finished so far. As always, I loved it! I also enjoyed Life, Love and the Pursuit of Free Throws which I read yesterday morning before the Read-A-Thon started.

3. Which mini challenge was your favorite?

I can't pick! the Wordle, the Story, and the Picture Puzzle were all fun.

4. What has been your favorite thing about the Read-A-Thon?

Everything! I loved the reading, the challenges, and the getting to know other bloggers!

5. What has been your least favorite thing about the Read-A-Thon?

The fact that I live with extremely loud lunatics who think being super irritating and violent is better than reading.

6. Are you on track to meet your goals?

NO! Not yet, anyway. I stayed up into the squeaky hours of the morning to finish Ella Enchanted. I started Snow this morning, and I'm hoping to get through it quickly.

7. Will you be participating tomorrow? Do you have any new goals?

Seeing as how it is tomorrow, and I'm participating, I'd have to say I'm participating tomorrow. I think I might lower my goals a bit. Now I'm planning on only reading 800 pages. I'm pretty sure I'll still be able to get 3 books in.