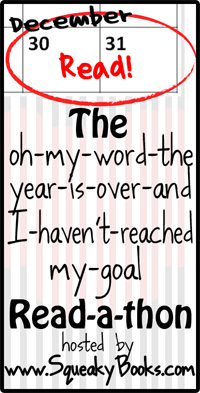 Enna Isilee over at Squeaky Books, one of my favorite blogs, is hosting a last minute read-a-thon for all those who are behind in their reading (like me). I guess I'm not
super
behind, but I would love to go above and beyond my goal of 70. I'm really looking forward to this read-a-thon because I, being one of Santa's helpers, know that I will most likely be receiving many books I've been wanting for Christmas!
Anyway, this read-a-thon goes the last 2 days of the year.
I'm spending New Year's Eve babysitting, but all that means is read the kids a bedtime story, then read one to myself until I either fall asleep, or the parents come home. Seems like a perfect opportunity for some last minute reading!
Go sign up so we can be sleep deprived book worms on New Year's Eve together!