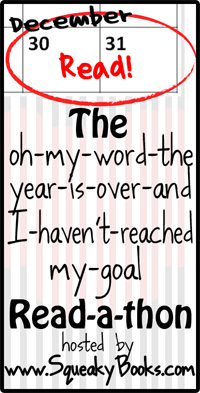 Time for the read-a-thon. I guess it started at midnight mountain time, but that's kind of...late. Especially considering I live somewhat east to the mountain time zone. I woke up nice and early(ish), ready to start reading and blogging, but then I fell asleep for 2 more hours.
These are the books I'm planning on reading:
The Smile by Donna Jo Napoli (I have 100 pages left)

Kat, Incorrigible by Stephanie Burgis

Across the Universe by Beth Revis

Graceling by Kristin Cashore (I'll at least get started on this)
Here is my beautiful little check-in list:
Total Books Read: 0
Total Pages Read: 0
Books Read Since Last Update: 0
Pages Read since last update:0
Total time read:0 minutes
How I'm currently feeling: Ready to start reading!
Now it's time to start reading! I'll be back in between 12 and 3.