2012 Picture Book Reading Challenge
I've lost track of how many picture books I've read. Probably the 24 that I set my goal for, but I really don't know. My little sister has begun to take interest in some chapter books, even though she's only 5. So now I read her stuff like Gail Carson Levine's Princess Tales and Mrs. Piggle Wiggle.
2012 Award Winning Reads Challenge
I set my goal for 6 books at the beginning of the year, and I've read 2.
I have a couple of books on my summer reading list that I'm really looking forward to.
2012 YA Mythology Challenge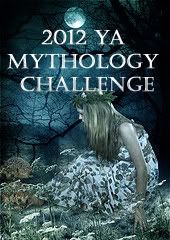 I've been kind of failing at this one. I'm not a huge mythology retelling kind of person. I think Rick Riordan just ruined the genre for me. The only mythological book I've read so far this year is Of Poseidon, which I enjoyed.
So I'm tweaking this challenge slightly by reading books that involve mythological creatures, but aren't strict retellings of anything.
2012 Support Your Local Library Challenge

I've been failing at this one horribly. The thing is, my "local" library is only about a block away, but in order to get to it I have to walk past the homes of several child molesters, and it's always packed with people who aren't willing to pay for their own internet, and don't even read books. And my personal library is larger than their whole YA section. So the library that I go to is in another city, and it's always really hard to get there, and the librarians are always really mean to me (they were using some not very nice or professional words behind my back as I walked out the door last time), and then my mom always forgets to return my books on time, so I build up huge fines on my card, and by the time I pay them off, it would've been cheaper to buy them. And my mom wonders why I buy my books.
I think I've read 3 books from the library. One of which was an audiobook. The rest of the books I haven't been able to finish in time, or purposefully dropped.
Read Dystopia Challenge 2012
This is one of the only challenges I've been having good luck in! I'm proud to say that I'm almost to the Survivor level of 11+ books!
The Classics Reading Challenge 2012
I set my goal low for this one, because I'm horribly slow at reading classics. I love them, but I don't have enough time for all of them! I have yet to read a single one, although I made it halfway through Pride and Prejudice before my copy went missing. here are just a few that I'm looking forward to:
Fairy Tales Retold Challenge
I'd be so embarrassed if I fell behind in my own challenge! Luckily I'm ahead of schedule! I've read 9 out of 15 books
So how are you doing with your reading challenges?