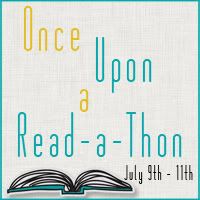 Well, I didn't reach my goal, but at least I didn't quit like last year! I managed to read 2 books, and I'm in the middle of 2 more.
Starcrossed by Josephine Angelini (started on page 127)
Paranormalcy by Kiersten White
Glitch by Heather Anastasiu (currently on page 89)
Ice by Sarah Beth Durst (currently on page 35)
I read 787 pages over the course of approximately 14 extremely loud, interrupted hours (I can usually get 100 pages in an hour, but this was closer to 50). Practically all of this reading was done on some sort of bed (because all the comfy chairs are in the most populated room of the house); either my bed, or my little brother's as we watched Toy Story 2 (like, 5 times). I also discovered that a giant teddy bear is the most amazing reading partner you can have.
The only bad news I have about the readathon is that I messed up my elbows really badly from excessive propping-myself-up-on-them, and my glasses are getting old and my vision is really blurry all the time, so focusing on reading for long amounts of time is really painful.
Anyway… now I'm free to go back to my regular reading schedule (which is…pretty much the same) and forget about all these updates and challenges!