Well, my summer reading challenge isn't working out quite as well as I was hoping it would, but it's only the first week, and my excuse is a good one: I was being a normal teenager and hanging out with friends!
Looking For Alaska by John Green
The Iron King by Julie Kawaga
A Midsummer Tight's Dream by Louise Rennison
Won from Epic Reads (for some reason I thought this was a series of stand-alones, but it looks like I'll have to read the first one, first!)
Anna Dressed in Blood by Kendare Blake
I've had no intention of reading this, but I thought I'd grab the audiobook while it's free in case of a rainy day in which I'm in the mood for my least favorite genre!
Starcrossed by Josephine Angelini
Glitch by Heather Anastasiu
The Princess and the Hound by Mette Ivie Harrison
Ice by Sarah Beth Durst
Paranormalcy by Kiersten White
My blogging schedule is filled for the week! If everything goes as planned (when does it not?), I'll have a post every single day!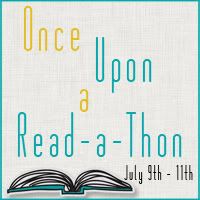 The Once Upon a Read-a-Thon is happening this week! I'm planning on finishing 3 books during the read-a-thon. I'll have an update post, so if you want to check my progress, you can find it there, as well as Goodreads and Twitter. And if you're participating, too, let me know!