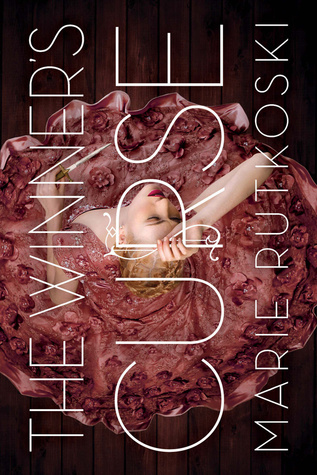 Publisher: Farrar Straus Giroux
Release Date: 4 March 2014
Genre: YA Fantasy
Source: ARC for Review
Find it:
Amazon
|
Goodreads
Winning what you want may cost you everything you love


As a general's daughter in a vast empire that revels in war and enslaves those it conquers, seventeen-year-old Kestrel has two choices: she can join the military or get married. But Kestrel has other intentions.


One day, she is startled to find a kindred spirit in a young slave up for auction. Arin's eyes seem to defy everything and everyone. Following her instinct, Kestrel buys him—with unexpected consequences. It's not long before she has to hide her growing love for Arin.


But he, too, has a secret, and Kestrel quickly learns that the price she paid for a fellow human is much higher than she ever could have imagined.


Set in a richly imagined new world, The Winner's Curse by Marie Rutkoski is a story of deadly games where everything is at stake, and the gamble is whether you will keep your head or lose your heart.
I feel like this quote from John Green's TFiOS perfectly describes my feelings towards this book: "I fell in love the way you fall asleep: slowly, and then all at once." I was just dipping my toes in, and then very slowly was pulled in until I closed the book and realized how in love I was with this book.
First off, I must talk about the world building in this story. The depth of this world is inconceivable. There was so much richness to it that it literally felt like I was walking through Valoria. It was very evident that Rutkoski was inspired by a variety of cultures (especially Roman) and she did her research, while leaving herself plenty of room for creating a highly impressive world of her own.
Kestrel was an awesome main character. She is so strong and independent, but still comes across as likeable. She challenges the expectations placed on her, with courage and confidence. In a lot of ways she seemed like she could've been an old friend with her nature.
Arin was both the complete equivalent and opposite of Kestrel. He's dark and mysterious, but inside there's so much. I almost with this book had been entirely from his perspective. The way it was written, we got to see quite a bit from him, but I think there's so much more to see from him.
The writing was spectacular. Beyond the outstanding world building, Rutkoski managed to convey emotions in such a beautiful way through her words. I could feel what Kestrel and Arin felt, and their dialogue brought the story to life with even more depth.
There are rumors that there's a trilogy in the works, and I must say I will certainly be an avid fan!